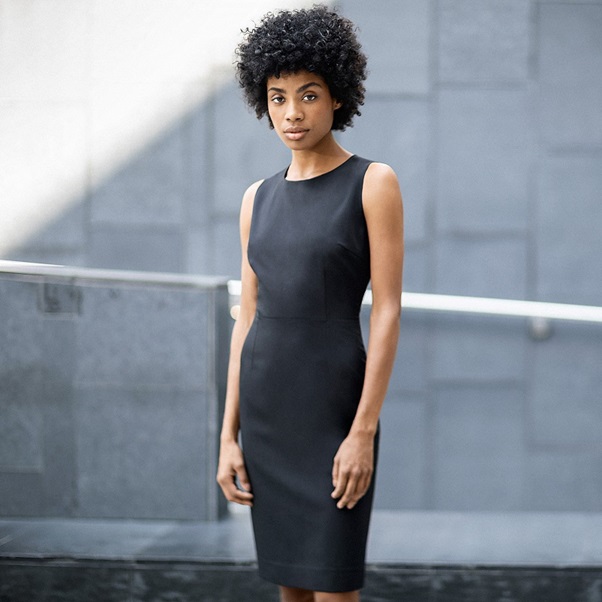 The sheath dress holds a timeless place in women's fashion as a versatile garment transitioning seamlessly from day to night. But beyond its styling flexibility, the figure-hugging sheath possesses quiet power in its design to make women feel confident, capable, and in command when worn. The sheath's clean minimalist silhouette actively empowers. True to its straight cut, the sheath slims and smoothes the shape without overaccentuating any one area. It creates a polished streamlined effect flattering women of diverse figures. The simplicity demonstrates the wearer cares about elegance and refinement.
Poise and posture
The sheath's fitted design and smoothing fabric naturally prompt wearers to stand taller with their shoulders back. The posture-perfecting silhouette subconsciously encourages graceful head-held-high poise and purposeful stride. The sheath cultivates a commanding presence. Unlike fussy over-embellished garments, the sheath's spare and clean outline spotlights the woman first. The sheath's simplicity and minimalist upkeep allow confidence to take center stage. While often thought of in basic black, sheaths make dramatic style statements in vibrant colors and bold prints. Emerald green, dusty rose and sapphire blue sheaths display feminine power.
Arm-bearing design
Sheaths frequently utilize sleeveless cuts that bear arms or feature cap sleeves with slight shoulder coverage. Revealing arms enables free movement and project capability. The sleeves won't hold you back. The versatile length moves with you without tripping you up. Stride forward purposefully without worry of its fall. The sheath dresses transitions effortlessly from desk to dinner and everywhere in between. Its versatility enables you to seize any opportunity that arises without limiting attire. Confidence comes from quick adaptation.
Shape-enhancing effect
The sheath utilizes precise darts, seams, and structuring to whittle waists, flatten stomachs, and smooth hips for an enviable silhouette. A sculpted yet authentic shape boosts confidence dramatically. The sheath style remains accessible for women of all body shapes and sizes when cut properly. Finding an inclusive size underscores confidence comes from within, not merely outward appearance. The sheath's slimming effect stays polished, even in motion. The body-conscious design prevents friction or inching that undermines poise. Hands remain free for assertive gestures and emphasis.
Tips for choosing your perfect sheath
Look for thick, structured material like knit rather than thin fabrics that may cling unflatteringly. Proper draping over curves comes from weightier material.
Pay attention to stitching – clean seam lines and darts that nip in at the waist to create shape and show quality design.
For proper stretch, ensure the sheath contains spandex or elastane blended into the fabric. Around 5-10% of blends move well.
Evaluate the neckline and sleeves for office appropriateness if needed, otherwise, opt for details you find most attractive. Certain necklines and arm coverage may suit your comfort and style better.
Select a hemline length that complements your height and proportions. Play with midi, knee-length, or above-the-knee cuts.
Try different sleeve, neckline, and hem versions to find the most flattering angles and proportions for your figure.
With so many brands, cuts, and bold colors now available, the possibilities feel endless for discovering your perfect power sheath. Start with classic styles from reputable brands before exploring bolder options. Know your shape and style intentions to zero in on the sheath that makes you feel unstoppable.